CROSSOVER SUPERGROUP, EXILE, ANNOUNCE 2018 "NO LIMIT TOUR" IN CELEBRATION OF 55TH ANNIVERSARY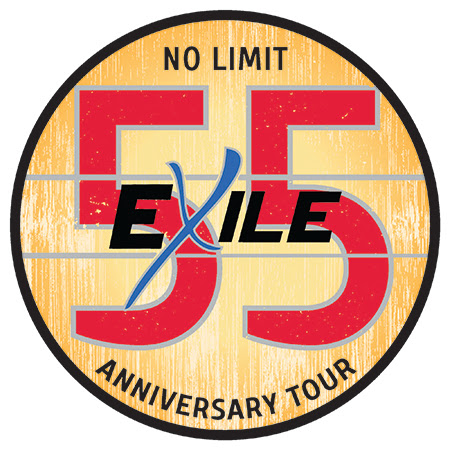 Iconic Hit "Kiss You All Over" Commemorates 40th Anniversary
NASHVILLE, Tenn. (January 3, 2018) – 2018 is a milestone year that marks the 55th Anniversary for a band formed in Richmond, Ky. in 1963. Crossover hit-making band, Exile, is celebrating the band's distinguished career as the longest running self-contained vocal group. Exile has sold over 8 million records, including three Gold records and eleven number one hit songs, along with numerous hits on the pop and country charts. They are known for major hits including "Kiss You All Over," "Give Me One More Chance," and "I Don't Want to Be a Memory," to name a few. Exile music is available on all digital platforms here.
"We're excited and proud to commemorate this landmark achievement in Exile's history of 55 years as a band as well as celebrating the 40th Anniversary of 'Kiss You All Over' this year!" said members of Exile, adding, "there are some very special plans for 2018, and we cannot wait to share them with all our fans."
Fittingly and appropriately titled the No Limit Tour, the trailblazing band has announced the first round of dates for 2018 and hints that they have a few more surprises up their sleeves to make this year memorable. Their most iconic hit, "Kiss You All Over" spent four weeks at the top of Billboard's pop chart in 1978 and this year will commemorate the song's 40th Anniversary.
Exile "No Limit Tour" 2018
Jan. 13 – National TV – Huckabee Show – TBN
Jan. 13 – Nashville, TN – Grand Ole Opry
Feb. 10 – Franklin, TN – Franklin Theatre
Feb. 15 – Lancaster, KY – Grand Theater
Feb. 16 – McMinnville, TN – Park Theater
Feb. 24 – Weirsdale, FL – Orange Blossom Opry
Mar. 3 – Norman, OK – Thunderbird Casino
Apr. 14 – Niagara Falls, Ontario – Niagara Falls View Casino Resort
Apr. 16 – Pigeon Forge, TN – Dollywood, Show Street Theater
Jun. 3 – Branson, MO – Silver Dollar City
Jun. 8 – Richmond, KY – Chenault Vineyards
Jun. 29 – Prestonsburg, KY – Mountain Arts Center – Hillbilly Christmas in July
Jul. 22 – Iowa City, IA – Johnson County Fair
Aug. 11 – Bevier, MO – Bevier Homecoming
Oct. 2 – Eminence, MO – Cross Country Trail Ride
Oct. 16 – Hiawassee, GA – Georgia Mountain Fair / Anderson Music Hall
Nov. 17 – Federalsburg, MD – Curtis Andrew Auctions Events w/Rhonda Vincent
Nov. 30 – Scottsburg, IN – Ross Country Jamboree
Dec. 1 – Scottsburg, IN – Ross Country Jamboree
Dec. 15 – Bremen, GA – Mill Town Music Hall
About Exile
Exile formed in 1963 looking to play small clubs in Richmond, Kentucky, but managed to top both the pop and country charts during their over 55 year-long career. Their most successful hit, "Kiss You All Over" spent four weeks at the top of Billboard's pop chart in 1978. In the early 1980's Exile started to focus on country music. During their run on the country charts Exile has successfully had ten No. 1 singles including "I Don't Want To Be A Memory" and "Give Me One More Chance." They have toured with acts including Aerosmith, Fleetwood Mac, The Oak Ridge Boys, The Gatlin Brothers and The Judds. The 5 original Exile members re-formed in 2008 and continue to tour today. Current members of the band include J.P. Pennington, Les Taylor, Sonny LeMaire, Marlon Hargis and Steve Goetzman. 2018 celebrates 55 years for the band and 40th anniversary of the hit song "Kiss You All Over." For more information, visit www.exile.biz.